RIGHT HERE AT UNIVERSAL STUDIOS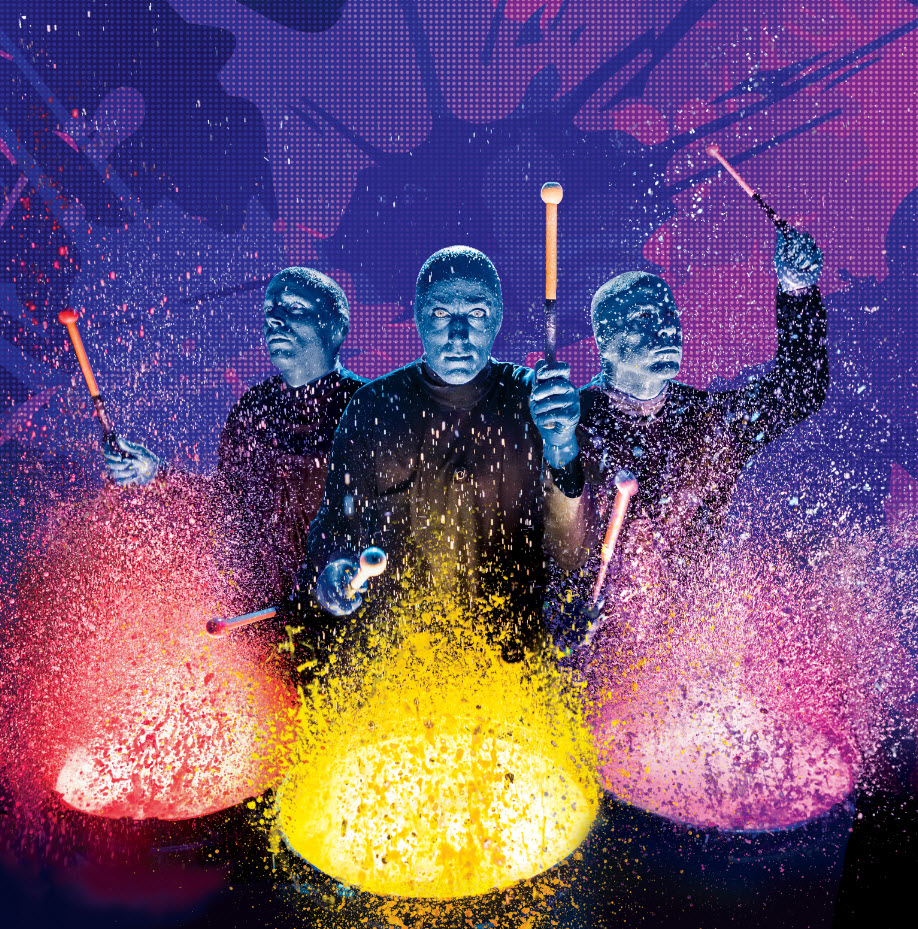 An international phenomenon, Blue Man Group is a wildly popular off-Broadway show that first debuted in 1991. Now based at Universal Orlando, the show maintains many of the original qualities that made the Blue Man Group popular. Behaving like a six-year-old, throwing paint balls, weird percussion noises with tubes, catching marshmallows in their mouths is what these bald-headed guys dressed in black do best. With seven alternating Blue Men and ten interchanging musicians, the off-Broadway production is nothing less than a first-class performance. Crowds flock to see the Blue Men pitch gumball sized paint-balls at one another as the second one catches them in his mouth then spits them on a canvas. Or watch the three man gorge themselves on large-than-life Captain Crunch boxes while the microphone amplifies the crunching sound through the entire 1,000-seat Theater.
Beyond your wildest imagination, Blue Man Group features three mute-guys dressed in black with bald heads completely covered with blue greasepaint and blue rubber gloves. Don't visit the show with preconceived notions but park your brain at the door and simply enjoy. I thought they were all about drumming on different objects and making music with oddball instruments. Many visitors come expecting some type of concert, but Blue Man is truly a theatrical performance of sorts. And when I thought it might be the only show in Orlando that would compare to Cirque to Soleil, this venue is much smaller. It seems to seat about 1000 people or and feels like it's the size of 2 movie theaters mashed together.
The 3 Blue Men (who knows where they're from) actually do quite a bit of drumming. And that part is fascinating because they use lots of lights and fluids and pipes and some objects I can't even begin to explain what they may be.
But there's quite a bit of comedy built into the show. Much more than I expected. This is probably because they are 100 yards from Universal Studios and their crowd base here (as opposed to Las Vegas) would tend to have a lot more kiddies in attendance. It's kind of like watching a variety show on television. There's a piece with some really cool music playing and drumming. Then they'll interact with an audience member or 2 and try and make you laugh. Then some foot tapping music. Then another oddball skit where they end up with cereal (or other things) stuck to their strange blue heads.
Legal:
*Includes free admission with presentation of your Blue Man Group show ticket to select Universal CityWalk® clubs on same date as your Blue Man Group show ticket. Not valid for separately ticketed concerts and special events. Some venues require ages 21 or older and a cover charge for admission. Valid photo ID required. Does not include admission to AMC® Universal Cineplex 20 with IMAX®, Hard Rock Live® or Hollywood Drive-in GolfTM. Subject to availability. Restrictions apply and benefits are subject to change without notice. © 2020 BMP. TM & © 2020 Universal Studios.