Step back to an 11th century faraway land, to a place where honor was unquestionable and courage unmatched. Explore a medieval village before you even enter the show and see fine craftsmanship, living quarters and even a torture chamber from the era. As you enter the castle and pass under the burning torches you step into a world run by kings, queens, princesses and knights. As a privileged royal guest who has been invited to the games, you need to get ready to experience a centuries old entertainment as you walk across castles draw bridge into the hall of arms. Here you will be greeted by a cast of men at arms and a tavern keeper while you wait for the show to start. Even take a photo with the king himself! Witness authentic relics of the past, knights in shining armor, and amazing memorabilia of the 11th century as you enter the celebration arena. But tonight, you bear witness to one of the greatest shows on earth, the place where titans collide in battle for dignity, honor, and romance.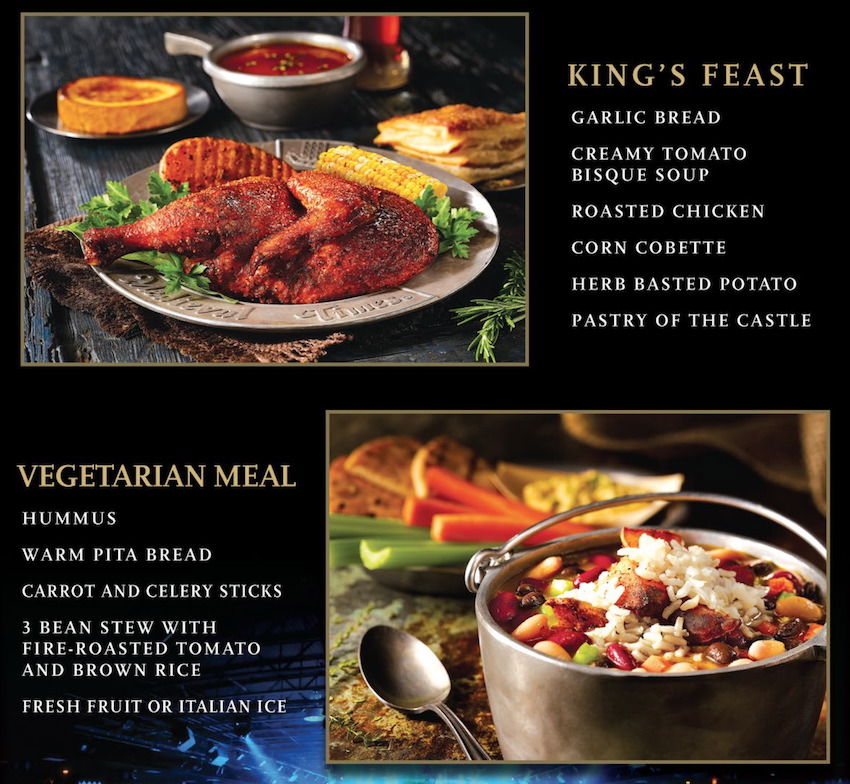 Dinner includes:
Oven-Roasted Chicken
Spare Rib
Tomato Bisque Soup
Herb-Basted Potato
Piping hot Garlic Bread
Pastry of the Castle
Select Beverages
Vegetarian Meals Available Upon Request
(Please advise your reservationist of your request or make a note on your internet reservation).
Be front and center as knights astride horseback compete for the kingdom. Each group is seated in a colored section, and you are represented by a knight on the field. Cheer for your knight as he battles his way to the top, or falls short trying. Be dazzled by the glitz and glamour of Broadway-style action at it's very best. Be mesmerized as equestrian knights demonstrate their fighting skills for the honor of the king and the heart of a beautiful princess. Cheer for your knight as six contenders joust with lance splitting action while wenches like clock-work serve a bountiful four course feast fit for a king.
Medieval Times features live jousting, sword fighting and amazing stunts all on horseback. These incredibly conditioned horses carry their talented riders through obstacles and peril in this amazing show. Cheer for your knight in the games while evil is afoot behind the kings back. Someone is making a grab for the kingdom, envious of the throne. Do our knights have what it takes to save the royal family? This is one show that you don't want to miss while visiting the Central Florida area!
Medieval Times has one of the most unique menus of all the dinner shows in the Central Florida area. Staying true to its theme the show features a traditional 11th century meal. A fantastic meal is served without silverware, so you can eat like a peasant. If you would like to avoid eating with your hands, be sure to bring your own plastic silverware.
The Show:
Medieval Times is an adventure unlike anything you have ever experienced. Marvel at the pageantry of brave knights, chivalry and romance during each live performance. With Florida tickets, you can indulge in an authentic medieval feast while gallant knights on horseback engage in a dual to the death. Brilliant costumes, authentic weapons, in high detail, all add to the splendor of the your visit. Cheer on your brave knight as he competes in games of skill, hand to hand combat, and jousting. Only the strongest and bravest Knight who hears the support of the loyal subjects will win. Make it a point to arrive early and visit Medieval Life Village. See how the commoners lived and worked in 12 cottages next to the Castle.