ORLANDO'S ONLY AIRBOAT & WILDLIFE PARK EXPERIENCE.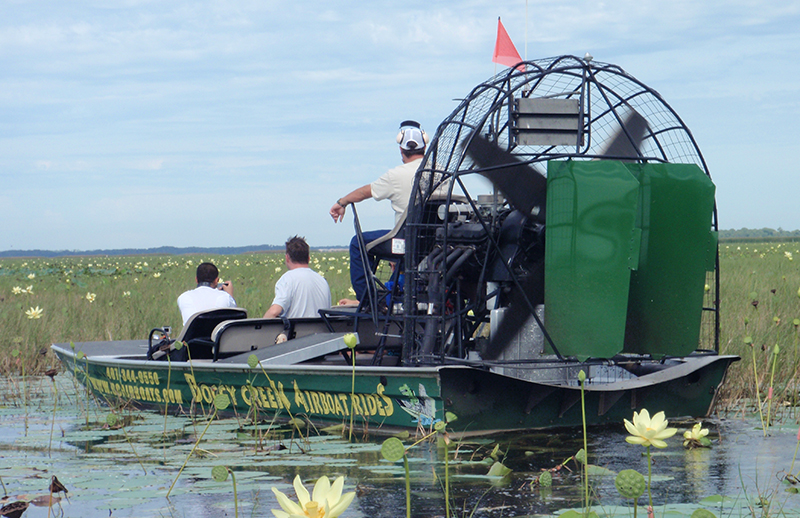 Many people that visit the Central Florida area are looking to see some of the local wildlife. As home to the popular Florida alligator, it is usually the first animal that people want to see. The only problem is that most of the wildlife in the area can't be found so easily. With thick brush covering most of the lakes, these elusive animals tend to be hidden in the most remote areas. So if you are looking to find some of these awesome animals there is really only one option, a tour! Tours are probably the most inexpensive things to do in the Central Florida area, and the most rewarding! Tours in the area aren't taken on foot, or even "boat." Lake tours take you across the water in a unique kind of craft, known as an "airboat."
Airboats are large flat craft powered by the most interesting of engines. On the back of each airboat is a massive fan, which can power these craft at incredible speeds! When cross the dense parts of the lake this is extremely beneficial. It means that unlike a boats engine that would get stuck in the thick brush, this propeller is completely protected from its surroundings. The incredible power behind these fans also allow this craft to move on land, which means there is really nothing standing in-between you and those elusive Florida gators.
With the power and diverse ability of an airboat they really are the best means of touring the area, and when it comes to airboat tours there is no one better than the Wild Airboat Tours. Just a short drive from Orlando this great airboat tour is located on the beautiful Cypress Lake. This great tour takes place on one of Central Florida's largest protected nature reserves. With over 4,200 acres of lake free of any human life or developments the area is home to a wide variety of animals that you can expect to see. From birds to snakes, fish and the Florida alligator the great Cypress Lake has it all!
These experienced airboat tour guides know the lake better than the back of their hand. Since alligators are territorial they know just where to find them every day. Your guide can answer any question you want to know about these great animals and the nature preserve. Plus, your guide is an excellent pilot of the airboat, allowing you to go place other tours couldn't even imagine! If there is any wildlife on the lake then these trained men and women are guaranteed to find it! But the awesome airboat tour isn't the only attraction at Wild Florida Airboat Tours. Here you can find a beautiful bird aviary, a five hundred foot sightseeing dock and fishing pier as well as a gift shop for some real Florida souvenirs!
Wild Florida Airboat Tours is the perfect way to make your vacation to Florida more… well Florida! This 100% pure Florida wilderness adventure is the great outdoors at its finest! With an awesome and unique airboat tour to see some of Orlando's finest wildlife we believe you will be talking about this great adventure the rest of your vacation! Be sure to check times and tours when you visit the area, this is one experience you don't want to miss!