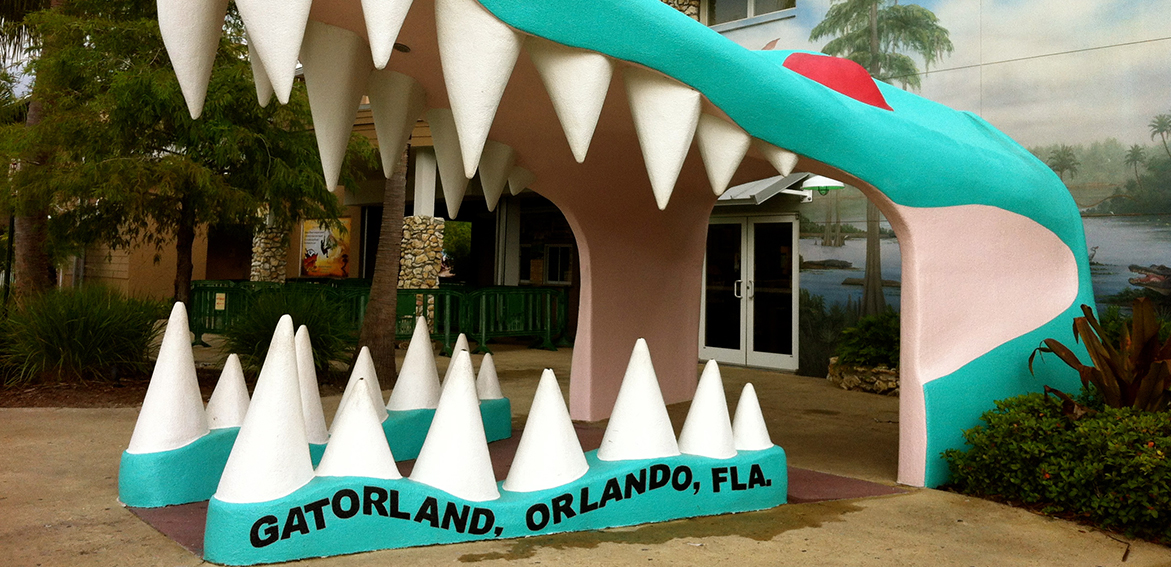 Whenever people come to Central Florida the first thing they start looking for is Florida's most popular wildlife, the alligator. Although you can look for them in the lakes and ponds while you are in town there is a good chance you won't ever see them! In fact the popular Florida Gator is a bit shy, and the chances of you seeing one in the wild is slim to none. You can take special and expensive tours to see them, but we have a much better solution for you! The oldest theme park in the Central Florida area is the awesome Gatorland experience! Here you get to come face to face with literally hundreds of alligators! This fantastic theme park features a wide variety of alligator species just ready for you to observe, feed and even watch perform!
The second you step through the giant alligator head and into the gift shop you know that these people know alligators. From merchandise to massive alligator pelts this gift show features it all! As soon as you step into the park you are instantly surrounded by a large lake just full of alligators. You can explore the vast numbers of alligators by walking above them on covered walk ways. From massive fourteen foot alligators to little foot and a half newly born gators this park features everything from the Florida alligator to exotic jumping gators, even an albino alligator! You can rest assured that when it comes to getting your fill of alligators in Central Florida you don't need to look any further!
Gatorland isn't just a zoo for alligators; it has several shows and attractions that will have you on the edge of your seat the entire time. Two of the most popular shows are the Gator Wrestling Show and the Gator Jumparoo! The Gator Wrestling Show is pretty self explanatory, this circular ring houses five or six large alligators. Your host invites someone from the crowd to enter the arena and pick out an alligator for him to wrestle. Then he drags it out of the water and demonstrates to you just how dangerous these animals can be by subduing the animal and showing you just how powerful they are! When the day comes to a close the Gator Jumparoo show starts. In the center of the park a long line is extended out across the alligator's lake, and then a park trainer steps out and begins lining the cable with all kinds of meat! This awesome show lets you see massive twelve and fourteen foot alligators propel themselves out of the water to catch their night's meal!
But the Gator Wrestling and Gator Jumparoo Shows aren't the only ones at Gatorland. In Upclose Encounters you can come in contact with some of the worlds most exotic animals! From deadly snakes to scorpions, albino boa constrictors to pygmy rattle snakes, this show is a step into the wild side of nature. Guests from the crowd get to choose a box from the stage; each box contains its own unique animal, so you never know just what is going to come out! With other great shows and encounters throughout the park you can enjoy every moment of your visit! In fact you can take your picture with either a snake or a small alligator just after entering the park!
Gatorland features a wide variety of entertainment, attractions, rides and of course alligators! So what are you waiting for? This is the perfect way for you to see some of those awesome and elusive Florida Alligators! Best of all you can enjoy all this fun and entertainment at a discounted price when you purchase tickets through us! Our great relationship with Gatorland lets us offer you fantastic prices on tickets! So whenever you are planning to enjoy a visit to Gatorland be sure to check with us for the best of prices!
Screamin' Gator Zipline!
The newest addition to the Gatorland theme park is the Screamin' Gator Zipline, an intense experience that will have you soaring over huge alligators at high speeds! A zipline is a long steel cable on a downhill slope. You connect yourself to the cable and "zip" down, picking up momentum as you go. Well here at Gatorland you can do just that! From tower to tower the Screamin' Gator Zipline course features a variety of sites and experiences you can't find anywhere else! Few people have the opportunity to say that they soared at thirty miles per hour while dangling from a steel cable over a pool full of Florida's Alligators. That might sound terrifying to some, but the truth is with the expert care of these zipline guides you can play the hero in this fun adventure! In fact there is a good chance you will be having so much fun you will forget those alligators are thirty feet below you!
This fun and comical adventure is a great way for the family to enjoy their visit to the park! Nothing bonds a family more than a screaming adventure that takes place suspended over the theme park. As soon as you arrive Gatorland Zipline Experts will help you lock into your gear. These professional harnesses ensure that you will be safe during your entire flight. Then you cross the park and ascend to a tower only three stories high. This is the "Gator Grunt Run," the shortest and lowest of jumps. From here all the courses continue to go up, and that means more speed and airtime! By the end of this awesome course you will be a pro, in fact the last run is a race between you and one other park guest! So if you are taking a family member or friend along be sure to practice, because you are going to be racing them to the finish!
The Gatorland Screamin' Gator Zipline guides are friendly and helpful. They know just what they are doing and how to keep you safe. So strap in and get ready for a once in a lifetime opportunity to rocket across these alligator infested waters, and be sure to buy a picture of your awesome adventure at the end!