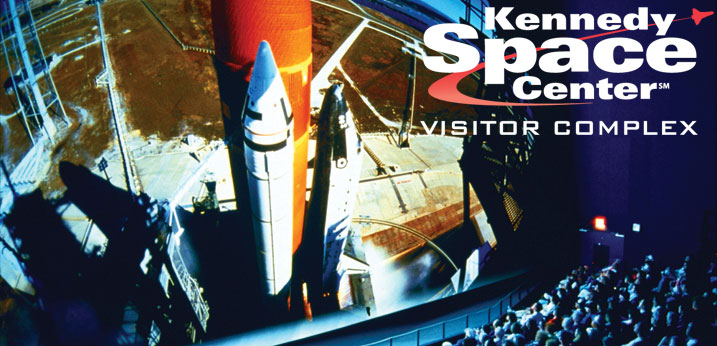 If you haven't been to Kennedy Space Center this year then it is time to go back! This year brings you all new guest speakers, presentations and more on select dates! As soon as you see the entrance you will be blown away by the new renovations. With a massive thirty foot high fountain that stretches a full seventy five feet, engraved with John F Kennedy the Kennedy Space Center reopens with an all new Nasa logo lighting the way! Be sure to visit this year and catch all the new action!
Your Orlando vacation is not complete without a trip to Kennedy Space Center. Just 45 minutes from popular Orlando attractions and theme parks is NASA's launch headquarters – the only place on Earth where you can tour launch areas, meet an Astronaut, see giant rockets, train in spaceflight simulators, and even view a launch.
Experience more on your vacation to Orlando with a daytrip to Kennedy Space Center Visitor Complex, where the sky isn't the limit – it's just the beginning.
John F. Kennedy Space Center is America's gateway to the universe and NASA's launch headquarters. Just 45 minutes from Orlando, it is a working government facility where over 10,000 men and women daily push the limits of scientific knowledge.
But it's also a remarkable place for visitors to explore and make their own discoveries. Celebrating the past, present and future of mankind's accomplishments, Kennedy Space Center is part of any great Florida vacation.
Kennedy Space Center Attractions
Space Shuttle Atlantis℠ Exhibit 
Get a view of the Space Shuttle Atlantis that, for many years, was for Astronaut eyes only. The mighty space ship is showcased in mid-flight and is surrounded by more than 60 interactive exhibits.
Shuttle Launch Experience
It's 3…2…1…launch as guests take their own vibrant journey of the Space Shuttle's rush to Earth's orbit. On Shuttle Launch Experience, Kennedy Space Center's newest attraction, visitors strap in to the sights, sounds and sensations of launching into space…fully vertical!
The journey begins as passengers enter the Shuttle Launch Simulation Facility, an looming six-story structure architecturally consistent with Space Shuttle facilities at Kennedy Space Center. As crew members ascend along the gantry, veteran shuttle astronauts share testimonials, setting the stage for the experience to come.
Entering the heart of Space Shuttle operations for the pre-launch briefing, crew members are guided by veteran Space Shuttle Commander Charlie Bolden as he takes them step-by-step through the launch sequence. Brilliant video screens spring to life on shuttle-like robotic arms. Anxious moments arise as dramatic atmospheric sound and lighting effects dramatize the moments before launch.
Astronaut Memorial
Dedicated in May 1991, the Space Mirror is a high-tech national monument to our fallen heroes. Visited by more than 20 million people, the Space Mirror is a project of The Astronaut Memorial Foundation and was paid for by Florida residents who purchased special Challenger mission automobile license plates.
IMAX® Space Films
In two giant IMAX® theaters, the dream of spaceflight comes alive with a wall of sound, five-story screens and realistic 3D special effects. Dramatic footage shot by NASA Astronauts during actual missions will make you feel like you're floating right alongside them.
Rocket Garden
Travel back in time and history in the newly re-developed Rocket Garden. Dramatic new lighting brings these historic rockets back to life with an adventurous and patriotic scheme, highlighting each fuselage with brilliant white uplight, bathing the site with techno-blue accents and heating the engines with flickering red-orange light. This lighting restores these rockets to historic brilliance, and presents them in dramatic context that captures their "blast-off" glory. Here visitors can experience the very same Redstone, Atlas and Titan rockets that first put NASA Astronauts in space. Climb-aboard Mercury, Gemini and Apollo capsules give the young – and the young at heart – an idea of the cramped quarters America's Astronaut pioneers endured. Free tours of the Rocket Garden are given at 10:30 a.m. and 4:30 p.m. daily.