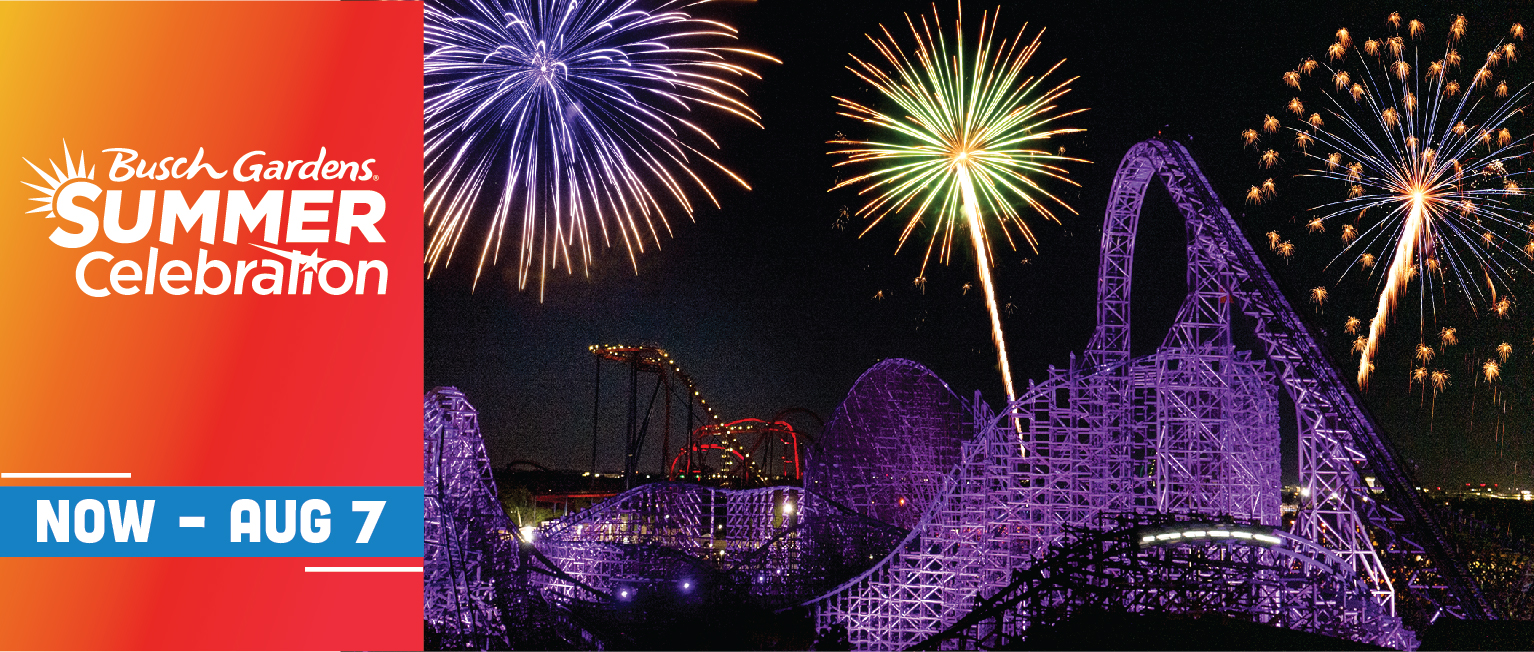 This one of a kind theme park is located in the Tampa Bay area. Most people assume this theme park is in Orlando, since all the other Central Florida theme parks are. But the truth is it is at least a one hour drive from the Orlando, but we can promise you it is well worth it! The Busch Gardens theme park is a combination of adventure rides, exotic animals, lush habitats and great shows for all ages! With something to do for everyone this theme park is perfect for friends and family! The Busch Gardens theme park is home to the largest selection of roller coasters in the Central Florida area. In fact it is widely known as the "Roller Coaster Capital of the World." With coasters featuring just about every unique design you can think of the Busch Gardens theme park is the perfect destination for any roller coaster enthusiast.
If you are a thrill seeker looking for some fun while on vacation than look no further, Busch Gardens has just what you are looking for. With over ten individual roller coasters it is easy to see why people from around the world flock to this theme part for that extra spur of excitement. As the Roller Coaster Capital of Florida, Busch Gardens provides you with a wide variety of coasters, each with their own unique set of twists and turns that bring new and exciting experiences to all enthusiasts. Cheetah Hunt has set records around the world. This roller coaster will rocket you at speeds of sixty miles an hour around one of the most distinctive tracks you will ever see. This four sided track will play tricks with your mind as you fly through these sharp turns and creative inversions. If you are a fan of free falling on a floorless coaster then head on over to Sheikra, where you will plunge from the sky at lightning speeds in one of the most breathtaking drops you will ever experience. Sheikra drops you within inches of water as you come down over a river with a near miss. When it comes to roller coasters there is no better place than here at Busch Gardens.
The theme behind the popular Busch Gardens is an exotic adventure to the edges of Africa. With exotic African animals at every corner of the theme park nestled neatly between raging ride experiences the Busch Gardens theme park is one adventure you definitely one to take while vacationing in Florida! With so much fun and entertainment combined with animal exhibits this theme park really has a little bit of everything for everyone!
Cobra's Curse
Busch Gardens Tampa Bay has made a name for itself with its unique rides and roller coasters and the newest attraction, Cobra's Curse (a first of its kind spin coaster), follows in that grand tradition!
Cheetah Hunt
This awesome roller coaster is a must for anyone visiting the park! Busch Gardens boasts that this awesome ride is an adventure like none other! The amazing grace of the worlds fastest land predator comes to life on this thrilling coaster! As the theme parks newest mega-attraction the Cheetah Hunt embodies everything that Busch Gardens wants to offer you with their rides. This incredible coaster reaches new heights, takes inversions to new limits and of course takes speed to a whole new level! This great new addition to the theme park is a an immersion into the life of the Cheetah Hunt, a ride inspired by the encounters of the Cheetahs at the theme park! Cheetah Hunt is said to be a "New breed of speed!" and is a must for anyone visiting the Busch Gardens theme park!
Congo River Rapids
The Congo River is home to some of the worlds most dangerous rapids. In fact many legendary explorers and travelers will tell you that they are the worst. Today there are very few people that will try their hand against the Congo River. But, here at Busch Gardens you and nine of your friends or family can brave these river rapids and traverse these waters. The thrilling plunges and racing river have been recreated here at the theme park to give you a water ride that surpasses all the others! With awesome waterfalls, water caves full of surprises and of course a rough river this is one ride you will want to hold on for! Onboard this circular raft you get to see the expressions of everybody on board, its fun for the whole family! When it gets hot in the Florida sun, and it does, water rides are the perfect solution for cooling off! Without missing a beat you can cool off in these refreshing waters while enjoying the action packed adventure of the Congo River Rapids!
Kumba
Since Busch Gardens is the Roller Coaster Capital of the World you will often see this roller coaster on most of the Busch Gardens advertisements. The Kumba roller coaster has become a kind of icon for the theme park, and for good reason! This heart pumping adventure is one roller coaster performance you don't want to miss! The Kumba has all the elements and maneuvers a roller coaster should. From the heart racing one hundred and thirty foot drop to the corkscrews, loops, sharp turns and more this roller coaster is the main event! As Busch Garden's primary attraction this is one roller coaster you absolutely can't miss when visiting the theme park! The Kumba embodies everything a real roller coaster should try to achieve!
Montu
As the tallest and longest inverted roller coaster in the world the Montu seems to defy records at every corner! At one point in time this awesome coaster was widely known as the most amazing coaster at the Busch Gardens theme park. The second you see this coaster in the distance it won't look much like any other coaster. In fact you might even thing it looks tame if you look at the direction the track is facing. But as soon as you get up close and realize that this coaster has a hanging cart the extreme experience of this coaster will have you shaking in excitement. With an incredible seven inversions this thrill ride has roller coaster enthusiast running from the entrance to its lines. Right after the first drop where your feet feel like they are about to touch the ground your cart rears upwards and the action beings… no hesitation! With twists, corkscrews, tunnels, loops and more Montu will have you grasping your seat and screaming at the top of your lungs! The name Montu comes from the Egyptian god of war, and if the name doesn't already explain it you should be ready for a wild ride. Get ready to be whisked away by this awesome coaster when you visit the Busch Gardens theme park!
Scorpion
The unique design of this roller coaster has been reeling in roller coaster enthusiasts from around the world since the theme parks opening in 1959. The effect that you get from this rare breed of roller coaster is said to put you "Under the Scorpion's spell." This incredible roller coaster is one of three around the world, designed by Anton Schwarzkopf this ride features incredible diversity. The second you plunge off the first drop of this attraction you will feel the difference; this roller coaster is set aside from the rest! The theme behind this ride replicates the race through the African desert. Reaching speeds of fifty miles an hour this steel monster has a sting! Get ready to experience the g-forces as you blast through a three-sixty degree vertical loop, the rides signature maneuver! So as you make your way through the Busch Gardens theme park, when this blue and red monster peaks over the horizon be sure to stop in for a wild adventure! We can assure you that this is one ride you don't want to miss!
SheiKra
As one of the tallest roller coasters in the Busch Gardens theme park this massive roller coaster can be seen from just about every corner of the park. Towering above the park this massive red and blue tower of steel is a roller coaster for only the bravest of adventurers. Not only is this great roller coaster a wild thrill ride, but the fact that it's a floor-less roller coaster just adds to the experience! After a two hundred foot climb to the top of this tower you approach the ledge of a ninety degree drop. Just as your cart goes over edge it stops, and for four breathtaking seconds you are suspended in mid air. Then the car releases and you go screaming down at rapid speeds into a variety of inversions! With twists, turns, loops and even an underground tunnel this roller coaster has it all! As one of the most popular roller coasters at the Busch Gardens theme park the SheiKra is definitely a ride you don't want to miss! This great roller coaster is uniquely designed to imitate the bird it was named after. All the maneuvers on the ride replicate a maneuver the bird is capable of doing! So get ready for a wild ride and enjoy this pulse pounding experience!