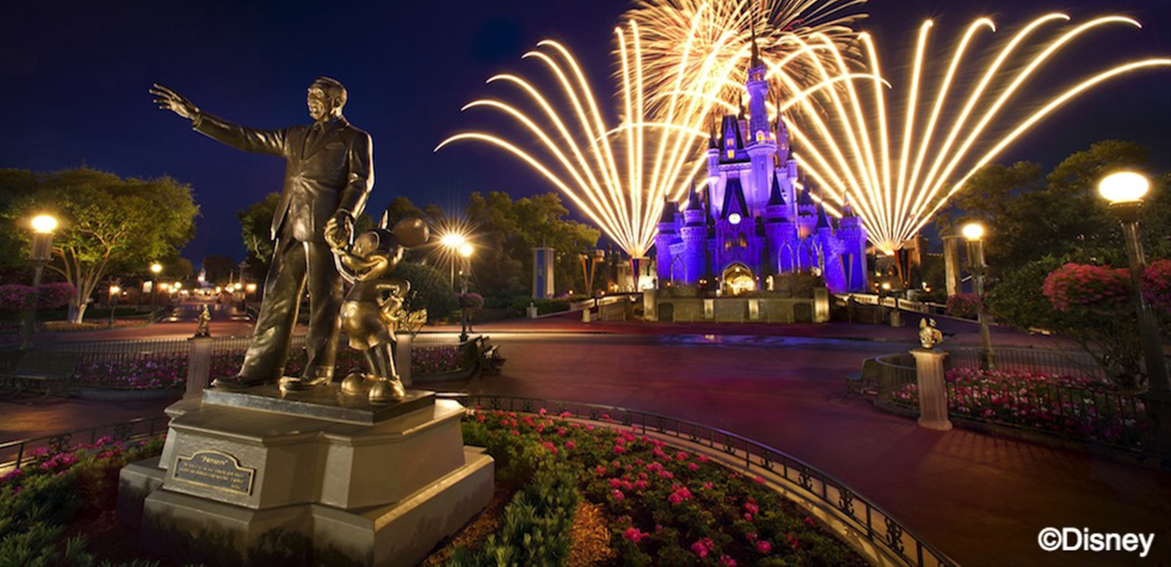 The 107 acres of land which make up the park feature seven themed lands connected by walkways and the Walt Disney World Railroad. Some of the best and well known rides make Magic Kingdom their home. Some high adventure rides include Big Thunder Mountain Railroad and Splash Mountain in Frontierland, Pirates of the Caribbean and the Jungle Cruise in Adventureland, and Space Mountain located in Tomorrowland. Other great rides which have withstood the test of time as family favorites include It's a Small World, Peter Pan's Flight, Dumbo the Flying Elephant, the Prince Charming Regal Carrousel, and the Mad Tea Party all located in Fantasyland. Located in Liberty Square is a huge family favorite that everyone knows as Haunted Mansion. All the little princesses in the family are in love with the magic and enchantment of the centerpiece of Magic Kingdom, Cinderella's Castle.
The castle has great features for the little princesses including Bibbidi Bobbidi Boutique, a great boutique where little princesses get makeovers including make-up, manicures, one of three hairstyles, gowns, accessories, and a phenomenal experience remembered for a long time to come. Cinderella's Castle also has a suite which is offered as a prize during the Year of a Million Dreams celebration which is part of all the Disney theme parks. This suite features a "royal bedchamber" which has the space to accommodate 6 people. Part of the magic of Cinderella's Castle happens at Cinderella's Royal Table, a restaurant in the castle. The restaurant is located up a set of circular stairs or an elevator up to the second floor where the atmosphere is transformed into a royal palace banquet hall where the parents are lords and ladies and the children are princes and princesses. Here, fans of the princesses of Disney stories including Belle, Snow White, Aurora, Cinderella, and others are available for pictures and a nice meeting with the people who make their roles possible.
Fantasyland
With more rides, shops, dining and attractions there is more to see and do this year than ever before. If you haven't visited the theme park since the opening of New Fantasyland in early December then the Magic Kingdom is a MUST for any returning Disney enthusiast! The new expansion brings all new Disney stories and characters to life in rich detail in two separately themed zones. The two new sections of the theme park are the Storybook Circus and the Enchanted Forest. The Enchanted Forest was inspired by two of Disney's flagship stories, the Little Mermaid and Beauty and the Beast, and Storybook Circus features the ever popular Dumbo the flying elephant! Complete with royal castles, a lush landscape, roaring waterfalls and entertaining characters this is one part of the park you will want to explore! The Enchanted forest is home to several new and re-renovated attractions. Take a Journey below the ocean in Under the Sea – Journey of the Little Mermaid and join Ariel and friends as they sing and dance to everyone's favorite tune and enter Prince Eric's Castle, aboard a giant clam shell. Enter Ariel's Grotto for a photograph with your favorite under the sea princess afterwards! If you like a good story then join Belle and Lumiere at Enchanted Tales with Belle for a retelling of the "Tale as Old as Time." If you're looking for a good meal for the family then head on over to the Be Our Guest Restaurant or Gaston's Tavern for a hearty meal! The Storybook Circus brings the American circus back to life from the Disney classic Dumbo. With colorful tents and carnival rides this is one place you don't want to miss when visiting the Magic Kingdom theme park. Take to the skies of Florida with The Great Goofini in one of his spiraling stunt planes and venture high about the theme park in The Barnstormer. Or soar high about the Storybook Circus grounds with Dumbo the Flying Elephant, an old favorite that has recently been given a twist. On particularly hot days you can head on over to the Casey Jr. Splash 'N' Soak Station, where you can dance in the refreshingly cool water play area!
Main Street U.S.A.
Main Street USA is the "village square" of Magic Kingdom lined with wonderful shops offering a barber shop, tasty treats, and great places to find novelty items, gifts, and clothing. Main Street USA is a great area to just walk around and observe. It is the first area one comes to when entering the park. There is so much to see on Main Street including all of the décor from early 20th century America. The buildings resemble Missouri and New England and have an amazing appeal to its visitors. The Exposition Hall acts as a welcoming center for Magic Kingdom where people can come in and gain valuable information and knowledge on one of Disney's most entertaining theme parks. Hop on the Disney World Railroad right from Main Street USA and get around easily seeing the rest of the park. You can find great souvenirs for family and friends. Save the shopping for Main Street USA where everything can be found in one area. See the park, have a good time and make sure to stop back by Main Street to get some much needed souvenir shopping done. It'll be easier to take everything home so close to the exit!
Adventureland
Where else can you explore the curiosities of foreign lands and discover all the myths and legends that they have to offer? Well in Magic Kingdom's Adventureland you are able to do all of that and more. Take a quest along side your favorite characters and explore an old pirate town, travel the jungle in search of new trails, and journey into your wildest explorer dreams as they begin to come to life. You may encounter a rather large interactive tree house, a band of pirates, or even some magic carpets along the way. Take a cruise through the jungle of Adventureland; you may be surprised with what you encounter as you experience the outdoors mystery of this magical theme park. With an exotic feel and a culturally diverse landscape, the traveling you do in this land will be something to remember. Being able to explore the Middle Eastern bazaars then walk a very short distance and experience what a pirate's life is truly about is not something you can do in very many places in the world. So set off on your journey to Adventureland and become a part of the magic and mystery that is hidden around every corner of this section in the Magic Kingdom.
Frontierland
Try reliving the old American frontier in Frontierland as you encounter run-away trains that were in search of gold, the Br'er Bunch who will lead you to a large splash, and some country music bears who love having a good time. Becoming a pioneer in Frontierland is easier than imagined as you explore new lands and take part of the history when cowboys and Indians were still at large. The "wild wild west" comes to life once more in this incredible segment of the Magic Kingdom and you can find your self intrigued by all the history and legends that Disney has to offer when it comes to the final frontier. Become a living legend and set out to do what few pioneers in the past have actually accomplished, and that is "discover". You will enjoy every second that you have in this section of Magic Kingdom because it is completely unique and has a spot for everyone's inner brave innovator. So lead the way and make new discoveries as the magic of pioneering lies within you at Frontierland and you are the captain of your own expedition.
Liberty Square
Liberty Square is homage to colonial America with its beautiful buildings and amazing replicas of The Liberty Bell and the Liberty Tree. There are lots of great attractions in Liberty Square including The Haunted Mansion, one of Disney World's most famous rides of all time. The timeline in Liberty Square starts in the late 1600's with the mansion and progresses around to Big Thunder Mountain ending the time line in the late 1800's. The other main attraction located in the square is The Hall of Presidents which is an amazing learning experience for young and old not familiar with the list of presidents we have had over the lifetime of this fine country. The hall is an amazing building that looks almost like a colonial mansion. Its majestic appearance fits the rest of the buildings in the square. Liberty Square has its share of shops and restaurants too. Shop in the old colonial themed shops for some great gifts and grab a bite in one of many restaurants; after that, take a ride on Liberty Square Riverboat where you can enjoy the landscape and environment of Liberty Square and neighboring Frontierland. It's an interesting land that needs to be visited time and time again.
Tomorrowland
Take a glimpse into the future at Tomorrowland in Disney's Magic Kingdom. You will be able to experience new technologies, ideas, and even take a trip to space as you become a scientist and set the trail for the future world. With a futuristic look and science-fiction experience you will be able to see just a small vision of what the rest of the world may look like one day. It's an incredible adventure to take and you don't even have to be an astronaut to go to space at Tomorrowland. The main attraction of this segment is Space Mountain where, you guessed it; you travel in a rocket ship to see just what space is all about. However, that's just a small piece of possibilities that you may encounter while traveling into the future. You may also enjoy the future with some of your favorite Disney characters such as Buzz Lightyear, Mike from Monsters Inc., and Stitch as he attempts to escape once again. Tomorrowland is yours and the opportunities are endless here because with your imagination who knows just what tomorrow might become.