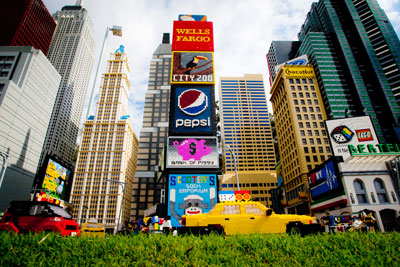 This 145-acre resort has everything for the entire family, including a Water Park and a hotel. It is the largest LEGOLAND in the world and the 5th LEGOLAND to open worldwide! They actually took the most popular attractions and entertainment from the LEGOLANDs and succeeded in building a park that is guaranteed to be a blast for the entire family.
There are many things that makes this one amazing park. First, it is located where Cypress Garden used to be, and in the process of building this park, the architects decided to maintain the luscious environments, especially the amazing botanical gardens. As you enter into the park, you'll see the first attraction called "Island in the Sky", and you'll appreciate the wonders that surrounds LEGOLAND, plus it gives you an overview of the actual park. At a 150-feet, the rotating platform will provide you a 360-degree view of the area, and what a view it is!
Fun Town is where the action will begin, cause here's where you'll find the "Factory Tour" which will teach you how Lego bricks are made from start to finish. the kids will enjoy the amazing "Grand Carousel" spinning with its awesome sound that will certainly be a delight to the family. And, do not miss the "Wells Fargo 4-D Theater" cause you'll be immerse in a fun and adventurous journey into a lego story, full with awesome 3-d effects blended with REAL effects, that is why its called 4-D!
Now, the heart and soul of this park is in Miniland USA. here's you'll find full on models of cities across the USA. From Florida passing thru Daytona and its Speedway to Kennedy Space Center, following the tour to California doing a little sightseeing, don't forget to stop and appreciate New York as only lego can immitate the city that never sleeps, be in awe of the wonderful capital in Washington DC and say hello to our president and even their little dog is hiding behind them! Las Vegas will be one where you'll take lots of pictures. But here, also, you'll find the little whimsical twist of Lego with it's Pirate's Shore area and for all the StarWars fans out there, you'll see its mini lego world!
For those nature-lovers, we have a treat for you here at LEGOLAND. The Cypress Gardens botanical gardens were restored to pristine condition, and the collection of native plants blended with other amazing species of flowers all combined to create a horticultural wonderland that will leave you enthralled. One highlight is the Banyan tree that was planted as a seedling in 1939!
Other lands will hold many nice suprises, including a roller-coaster in Lego Technic area, be a treasure hunter in the Land of Adventure, and meet a dragon in Lego Kingdoms. The little kids are king of the world in DUPLO Village, where they can ride a car or even fly a plane!
LEGOLAND Florida has got rave reviews from children and parents since the opening of the park in 2011. With so many things to see and experience, it is the ultimate spot for children ages 2-12. LEGOLAND offers 11 different areas in the park for family fun that also is on the more educational side for the little ones, but they could never tell.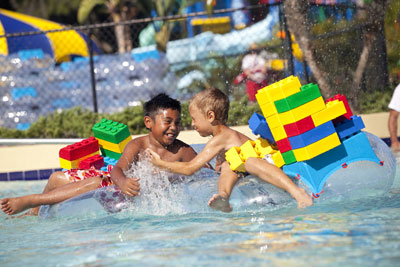 Lets not forget the Water park that has caused the biggest splash of all! If you need to cool off in this hot Florida sun, LEGOLAND Water Park has plenty to offer. Perfect sized waves for any age at the wavepool or splash down the slides, alongside family!  Be ready to build your way to a fun and water soaked good time! All the rides and attractions are appropriate for all ages. Here some of the rides and attractions you'll find:
Twin Chasers
Splash Out
LEGO Wave Pool
Build-a-Raft River
Joker Soaker
DUPLO Splash Safari
After the kids become exhausted from all the splashing around, make sure to have them refuel at the Beach-n-Brick Grill. You'll find an assortment of snacks and other food items to satisfy the hunger of any LEGO Beach-goer, big or small. Make you're next vacation to the Central Florida area special with a visit to the LEGOLAND Water Park.
If you are looking for a way to save money when you visit then you have come to the right place. LEGOLAND Florida discounted tickets have arrived! People will be lining the streets to get in. You can rest assured that the line at the ticket window will be long, and waiting in the sun here at the Sunshine State will leave you with a little souvenir we like to call sun-burn. So get your tickets at a discounted price from us and save yourself the hassle, and some money at the same time!
LEGOLAND 1 Day Adult Ages: 13 – 59 1-day admission to Central Floridas Newest Theme park.